I met Jan Gerben at my Yerba Buena Antique Motorcycle Club meeting last night - although a resident of the Netherlands, he'd ridden down from Alaska, and is passing through San Francisco on his way to South America, making the ride of his life. Lots of people have the ambition to take a motorcycle from the Arctic Circle to Tierra del Fuego, but Jan is the only one I've met whose chosen transport is a 65 year old sidevalve Harley '45' model WLC.
Jan purchased the ex-Canadian army bike about 10 years ago (it was one of many abandoned in Europe after WW2), in good running condition, and had put a few miles in on local club runs plus some modest touring. He hankered for a gesture more grand, and managed to snag a 6 month sabbatical from his job as an economist for a hospital, to ride his motorcycle as far south as he could, from as far north in North America as he could manage.
Post-9/11 shipping constraints meant he was forced to have the Harley flown to Anchorage via DHL (see pic below), where he met the machine last August, and promptly rode further north. Although theoretically still summer, the weather reserves its own rights in Alaska, and he encountered rain, sleet, and snow during his adventures there, although he met some interesting an helpful souls along the way.
Especially when his generator packed up in Prince Rupert, and the local Harley dealer took one look at the bike and sent him back out the door (how's that for backing your product?).
Luckily, only two degrees of separation found him at a retired dealer's collection, where he was able to get the parts he needed (photos of some of his 4-cylinders - Ace, Indian, Henderson - are below).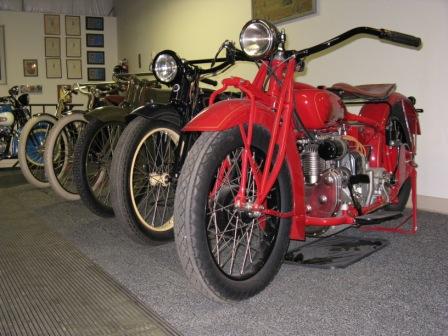 As he neared California, the generator began acting up again, as did the clutch and through friends he found Vince Spaddaro, one of our local vintagents, who is an early Harley expert, and was able to help with parts.
Jan says high-mileage days are very hard on his old bike, as the steady high engine temperatures seem to take their toll on parts, so he limits his cruising speed to 50-55mph, and keeps the miles below his record 400 in one day. Having ridden a few rigid frame machines that distance myself, I'd say that was a good idea, as much for his body as the bike!
Jan has a nice blog
with photos documenting the trip, and while most of it is in Dutch, some is translated into English.
Best of luck!
All photos are from Jan's blog, and presumably copyright Jan Gerben.